What is Osteopathy?
Osteopathy is a non-invasive manual therapy that aims to improve health across all body systems. Osteopathic medicine was founded by Andrew Taylor Still, a 19th-centrury North American physician. He claimed that human illness was rooted in problems with the musculoskeletal system, and that osteopathic manipulations could solve this problems by harnessing the body's own self-repairing potential.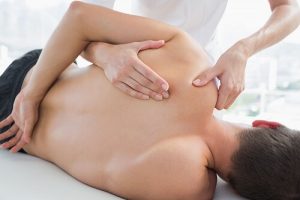 An osteopathic physician will focus on the joints, muscles, and spine. Treatment aims to positively affect the body's nervous, circulatory, and lymphatic systems.
Osteopathic techniques will help to improve circulation and correct altered bio-mechanics, without the use of drugs.
Various situations such as stress, accidents, surgeries and emotional problems, can create tension and blockages in different parts of the body, causing pain.
On going osteopathic techniques practiced by a certified osteopathy doctor can help you with:
Chronic Pain
Low Back Pain & Sciatica
Neck Pain & Headaches
Arthritic Pain
Shoulder Pain
Knee Pain, Hip, Elbw and Hand Pain
Foot & Ankle Pain
Sports Injuries
Tennis & Golfer's elbow pain
Postural problems
Neuralgia
Osteopathic Physician in Costa Rica
Bachelor Degree in Physical Therapy, Santa Paula University, San José, Costa Rica
Masters Degree in Osteopathy, Universitat Autònoma de Barcelona, España.
Contact: 8825-7014