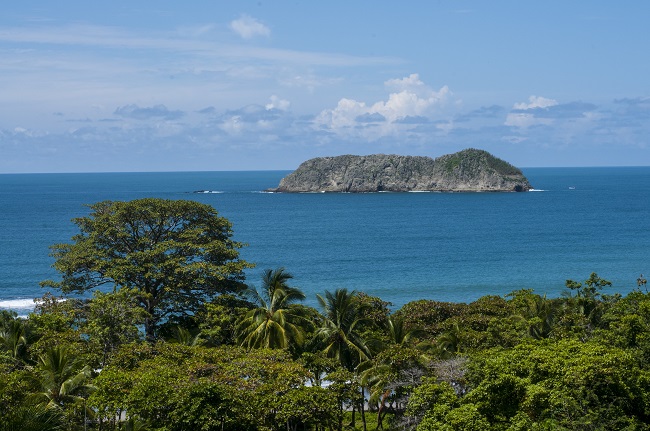 When you read stuff about Manuel Antonio, generally people/writers are referring to the National Park specifically. In an effort to complement that information, know that here we are going to actually speak about the general area of Manuel Antonio, meaning the Manuel Antonio National Park and also the village that surrounds it.
The general area of Manuel Antonio is full of hotels, rental vacation houses and small cabins, everything for all budgets. You will also find lots of great restaurants, bakeries, little cafes, bars and even a casino.
Quepos is the main little-town closest to Manuel Antonio. Weather you fly, drive or take a bus, you will arrive or pass through Quepos. There is one single-main-road that connects Quepos with Manuel Antonio village, which stretches along a mountain side.
The fact that the small village sits on the mountain side is precisely what makes most of the hotels and restaurants so special, they all have the most incredible scenic views! There are hotels down closer to the beach so always keep in mind that if you want the views, you need to make sure that the hotel you pick actually sits on the mountain side and not down by the beach.
Manuel Antonio National Park Schedule
Now, in reference to the Manuel Antonio National Park itself, its open Tuesday through Sunday from 7:30am to 4pm. Notice the park is closed on Mondays.
With 1,700 acres of dense vibrant forest, 136,000 acres of ocean and the truly beautiful beaches, Manuel Antonio is one of the most visited National Parks in Costa Rica.
When you visit, you will for sure enjoy the company of the famous white-faced or capuchin monkey (called "mono cara blanca" in Spanish), the red backed squirrel monkeys (called "mono titi" in Spanish), countless bird species, reptiles and amphibians.
How to get to Manuel Antonio
BY AIR:
This is the fastest, of course. The trip lasts about 25 minutes flying and the cost per ticket is around $60US. There are local carriers available like Nature Air and Sansa. These companies fly between San José and Quepos several times a day, with departures and arrivals from many popular tourist locations.
BY BUS:
Direct buses from San José depart from the Tracopa Bus Station, from Monday to Saturday. The address for the bus Station is: Plaza Viquez, Calle 5 and Avendia 20, San José. Most taxi drivers will already know the address; however, it's always better to have it handy. The cost of the bus ticket is about $8US. This is a great option if you are traveling on a tight budget!
COLLECTIVE SHUTTLE BUS:
There are private shuttle companies like Interbus and Grayline. They offer door-to-door service between all major tourist destinations and Manuel Antonio. Air-conditioned buses seat 10 to 15 passengers and have a bilingual driver. There are both morning and afternoon departures for Manuel Antonio for about $45US per person, each way.
CAR:
Travel time between San Jose and Manuel Antonio will be around 3 and half hours, depending on traffic and road conditions. Take Route 27 west toward Orotina for about 40 minutes. Exit toward Route 34, following signs to Jacó. Before reaching Jacó, you'll cross the Tarcoles River Bridge where dozens of enormous crocodiles can be spotted from the road, you can park at the end of the bridge and go take a peak. Expect to pay around $5 in tolls (that is about 3 thousand colones). It is very important that you have Costa Rica currency available for this; they do not accept credit cards on the tolls.
From Jaco, it's an easy one-hour drive to Manuel Antonio so if you need a break or if you feel hungry, Jacó is a good stop, there are several little restaurants all around, supermarkets, liquor stores, pharmacies, etc.
TRAVEL TO MANUEL ANTONIO NATIONAL PARK
Pacific Coast of Costa Rica