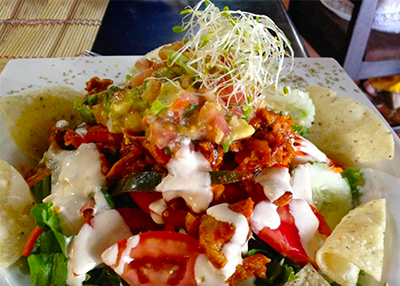 Mantras Veggie Café & Tea House
San José
Comida sana, fresca y deliciosa; vegetariano, vegano y crudo. El restaurante Mantra Veggie Cafe & Tea House le ofrece sopas, ensalada, wraps, pasta, pizza, postres y smoothies deliciosos!
Mantras Veggie Café & Tea House
San José
Healthy, fresh and delicious food; vegeterian, vegan and raw. Mantra Veggie Cafe & Tea House Restaurant offers soups, salads, wraps, pasta, pizza, desert y killer smoothies!
Teléfono Mantras Restaurante:
2253-6715
Dirección en Barrio Escalante: 
200 metros Este de la Rotonda del Farolito y 25 Sur. En barrio escalante. Diagonal al restaurante Whappin, Barrio Escalante, San Jose, Costa Rica
Facebook:
Horario:
De Lunes a Sábado de 8:30am hasta las 5pm
Sirven desayuno, brunch almuerzo y café.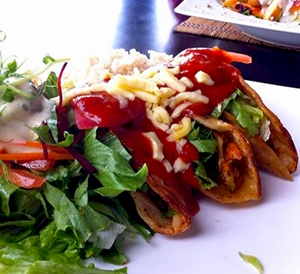 Productos Artesanales
100% Orgánicos!
Otros productos disponibles en el Restaurante Mantras:
Leches vegetales crudas de almendra, marañon canela, almendra hemp, spirulina marañon y cacao almendra.
Fermentados totalmente artesanales y de primera calidad de: Kimchi, Sourkraut, Cultured Vegetables.
Productos Artesanales 100% Organicos
El Restaurante Mantras Veggie Cafe and Tea House ofrece comida deliciosa, aún si no eres vegetariano! excelente atención e instalanciones. Dispone de espacio al aire libre.
TAGS: Mantras Veggie Cafe and Tea House, comida vegetariana, restaurante vegetariano, restaurante vegano, comida fresca, natural, cruda. Cercano a las areas de: San Pedro, Curridabat, San Jose Centro, Moravia. En respuesta a búsquedas como: adonde puedo comer rico? Restaurante Mantras Barrio Escalante, Mantras Veggie Cafe, Cafés en San Jose