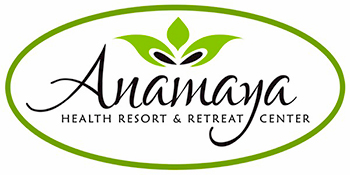 Anamaya Montezuma
Resort & Retreat Center
Located at a top notch location next to a spectacular waterfall and 270 degree ocean views.
Anamaya Resort and Retreat Center is truly an exotic place, built on a cliff edge and overlooking the most incredible ocean views.  The resort is a few steps away from epic waterfalls, surrounded by rainforests, and located in one of the world's most beautiful tropical beach towns.
"Anamaya" is Sanskrit for "good health" and that is our focus.
Our unique retreat center offers gourmet organic food, yoga teacher trainings, several types of yoga classes and yoga retreats, a variety of luxurious spa services, and an array of uniquely designed retreat packages, and workshops all in respect to the body, mind and spirit.
Anamaya Resort and Retreat Center es verdaderamente un lugar exótico, construido sobre un acantilado y con las vistas más increíbles al mar. El complejo se encuentra a pocos pasos de hermosas cascadas, rodeado de bosques tropicales, y situado en una de las ciudades de playa tropicales más bellas del mundo.
"Anamaya" en sánscrito significa "buena salud", y ese es nuestro enfoque.
El Resort ofrece comida gourmet orgánica, formación de profesores de yoga, varios tipos de clases de yoga y retiros, una gran variedad de servicios de Spa de lujo y varios paquetes de retiro de diseño único, de talleres y todo en relación con el cuerpo, mente y espíritu.
Teléfono:
506-2642-1289
USA Toll Free:
1-866-412-5350
Email:
EnjoyLife@AnamayaResort.com
Website:
http://www.anamayaresort.com/
TAGS: Top Yoga Retreat Spots, Yoga Teacher Training Costa Rica, Health Center, Hotels in Montezuma, Healthy food and healthy life style plus some adventure! Surf leassons Costa Rica