Clouds, mist, coffee plantations, birds, monkeys, lush green mountains
Monteverde and Santa Elena Cloud Forest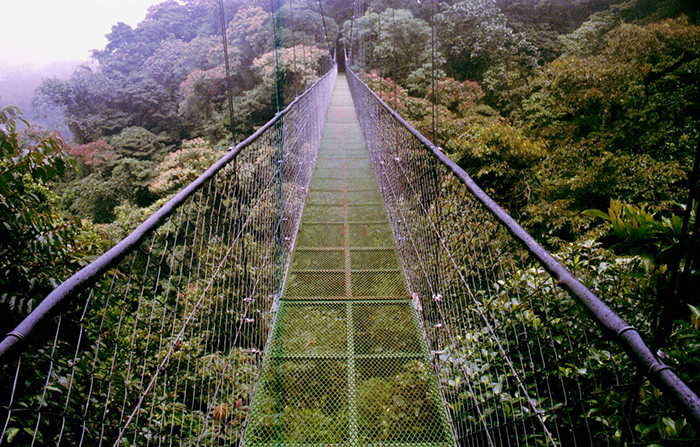 Monteverde is located atop the continental divide in central Costa Rica at 4,662 feet above sea level. On a clear day you can see both, the Atlantic (Caribbean Ocean) and the Pacific coasts of Costa Rica. The mountain slopes provide habitat for an astonishing biological diversity, attracting visitors from all over the world.
Once you reach the mountaintop, you will come upon the quaint town of Santa Elena, with cute gift stores, hotels, restaurants, cafes, the supermarket, a few banks and other amenities of civilization, so to speak.
Monteverde Cloud Forest
Rich farming soils, the wonderful Costa Rica temperature and a country without an army attracted a group of Quakers from the United States. They founded Monteverde back in 1951. If you wish to read more about the history of the area, we recommend this site.
This small neighboring does not have a town center, it is comprised of a dirt road that leads to the Cloud Forest Reserve. Spread out along the walkable road you will find more hotels, little cafes, yummy restaurants, art galleries, little stores where you'll get the chance to buy handcrafted and artisan goods and of course, a beautiful scenery! The town doesn't have much in terms of modern conveniences but everything in terms of nature and "pure life", no pun intended on Costa Rican's famous saying "pura vida".
The Monteverde Cloud Forest Reserve extends over 35,089 acres of primary forest (which means old growth). There are over 400 species of birds, 100 species of mammals and 1,200 species of amphibians and reptiles living around the area. There are jaguars, ocelots, pumas, oncillas, margays, and jaguarundis, as well as the endangered three-wattled bellbird and resplendent quetzal.
Hiking Trails in Monteverde are ver well maintained so all you need are comfortable shoes.
Monteverde is about 4.5 hours away drive from San José. Could take longer if you are visiting during rainy season.
Santa Elena Cloud Forest
The Santa Elena Cloud Forest is similar to Monteverde, however, it is more of a mix of primary and secondary forest (secondary forest refers to newer growth). Santa Elena is also the home of the spider monkey. It extends to over 764 acres of land with kilometers of trails for hiking and bird watching lovers. Both parks, Monteverde and Santa Elena can be explored in one trip, as there are only 3.6 miles (6 km) between Santa Elena and Monteverde.
Santa Elena opens daily, from 7 am to 4 pm. You can book guided tours, there half day tours and full day tours available or, you can easily follow the trails and venture on your own.
It makes sense visit to include Monteverde in your travel schedule if you are in the area of the Arenal Volcano, Puntarenas or if you are on your way or, coming from, the Guanacaste beaches.