The luxurious Croc's Resort & Casino goes all-inclusive in Jaco Beach, Costa Rica.
–
Long known for its Vegas-style casino, luxury accommodations, beachfront location, and four 5-star restaurants, Croc's Resort and Casino has taken luxury to a new level by introducing its all-inclusive model.
Aiming at luxurious convenience, Croc's began offering all-inclusive accommodations in July of 2018.
All-Inclusive Luxury in Costa Rica
–
All-inclusive means food, drink, and entertainment, and it often means buffet style meals and soft drinks, water, tea, and coffee only- no alcohol. Not so at Croc's Resort & Casino in Jaco Beach, Costa Rica.
With a nod toward leading 5-star all-inclusive brands around the world, Croc's Resort embraces all-inclusive access to four specialty restaurants, one specialty coffee and pastry shop, and alcoholic beverages, as well as entertainment.
There are two options to choose from at Croc's: Gourmet Red Bracelet or Premium Blue Bracelet.
With a gourmet Red Bracelet, you will have access to all four specialty restaurants (reservations required and based on availability) and premium, imported wine, liquor, and beer.
With a Premium Blue Bracelet, you will have access to the buffet dining room on your first day of stay, and to the specialty restaurants after that. Your alcoholic beverage selections will be from national and house wine, beer and liquor options.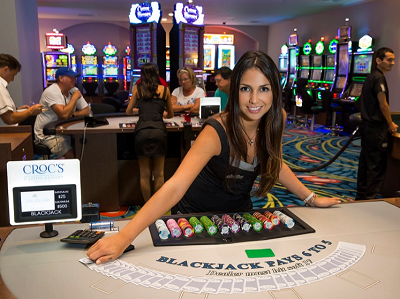 Never a dull moment, there is plenty to do at Croc's Resort. From morning to evening there are always scheduled activities, including yoga, water aerobics, mixology lessons, salsa dance classes, wine tasting, and more. Just look for the activity board on the wall near the front lobby to see what's going on each day.
Not a person for group activities? No worries! While some are free of charge and others will cost you, options abound at the hotel premises, including:
Lounging poolside with a good book.
Massages, wraps, scrubs, Vichi showers and other treatments in the spa.
Manicures, pedicures and hair care in the salon.
Casino gaming.
Beachcombing.
Biking.
Horseback riding on the beach (look for the guy with the horses at the entrance to the shore).
Local tours and activities in and around Jaco Beach, Costa Rica.
Look to your concierge at Croc's to help you decide on great activities and tours for you and your family while staying at the hotel.
With well-appointed accommodations ranging from deluxe rooms to suites with ocean or mountain views, and two or 3-bedroom family suites that have full kitchens and living rooms, Croc's offers the perfect home base for your Jaco Beach, Costa Rica vacation.
---
All-Inclusive Luxury in Costa Rica
Croc's Resort & Casino